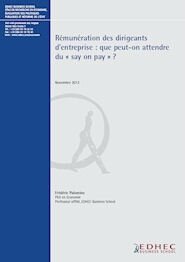 There is a debate worldwide about the question of asking shareholders to give their say about the pay of their CEO.
According to a number of authors, CEOs' pay would not be efficiently decided by the board of administrators in big listed companies. The reason would be that shareholders are numerous and don't influence really the choice of administrators. Administrators would therefore be biased because there are often chosen by the CEO himself.
EDHEC Business School's researcher Frédéric Palomino conducted a study about this question [Note1]. He analyzed a large number of studies worldwide about Say on pay to see whether it is efficient.
According to this study, Say on pay would probably be inefficient. As the study shows, "the several empirical studies conducted in countries where say on pay applies show that (i) this does not change the level of pay and (ii) say on pay is not greeted by shareholders. The only positive aspect of say on pay would be for extreme situations where not only the company's profits are low and the CEO's pay is abnormally high."
"As a consequence, one can wonder whether such a regulation that imposes a high administrative cost to all companies to give an answer to a limited number of extreme situations is appropriate".
This economic study directly influences the decision of legislators to pass a law.
Interested in Legal Strategy in Europe ? Register for the Newsletter !
Olivier BEDDELEEM
Lecturer in European Legal Strategy, EDHEC Business School
ESPEME entrepreneurship program director
[Note1] Frédéric PALOMINO, "Rémunération des dirigeants d'entreprise : que peut-on attendre du "say on pay" ?", EDHEC Position papers, November 2012, http://professoral.edhec.com/recherche/publications-edhec/2012/remuneration-des-dirigeants-d-entreprise-que-peut-on-attendre-du-say-on-pay--174625.kjsp?RH=ZYZYZYZYZYZYZYZYZYZYZY